Bump 50:50 Selected to Provide 50/50 Raffle Program to Pirates Charities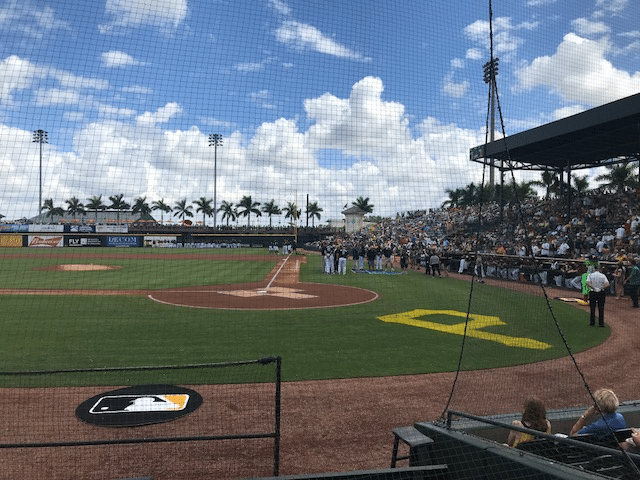 Bump 50:50, a division of Sportech Racing and Digital, announces that it has been selected by Pirates Charities, the official philanthropic arm of the Pittsburgh Pirates, to provide electronic 50/50 raffle programs at Pirates spring training and home games.
Bump 50:50 commenced the raffle program at Pirates Spring Training in Bradenton, Florida and will bring the program to Pittsburgh for the 2018 baseball season.
Bump 50:50 provides a package of electronic raffle technologies and services that is proven to help charitable foundations implement successful electronic 50/50 raffles.
The package for Pirates Charities includes Bump's point-of-sale software and hardware, a triple-redundant central system for real-time raffle processing, and rapid-response services. Bump also provides its signature implementation package consisting of marketing, and other operational strategies and best practices that help maximize the potential of 50/50 raffle programs. Bump's advances in electronic raffle programs is allowing Pirates Charities to offer new services to their fans, including for the first time the ability to purchase raffle tickets with credit cards at this year's spring training games.
Patty Salerno, the Pirates Senior VP of Community and Public Affairs and Executive Director of Pirates Charities, commented, "The 50/50 raffle that we host at every home game is very important to Pirates Charities.  With the dollars we raise through this program, we are able to support our community in numerous ways.  We assist youth in the areas of health, fitness and education.  We support our active duty military and veterans and their families; and we help those who have been affected by cancer.  Our 50/50 raffles are the engine that makes all of these good works possible.  We are very pleased to be working with Bump 50:50 this season, and look forward to a great 2018 season!".
Dan Tanenbaum, President of Bump 50:50, stated, "We are very pleased to welcome Pirates Charities to the Bump 50:50 family.   Bump's proven-effective raffle solution helps our customers improve their raffles and grow their jackpots and we look forward to using our technologies and strategies to help make great things happen for Pirates Charities in Pittsburgh."
More information is available at www.bump5050.com.