Sportech Delivers Breeders' Cup 2022 Betting Excitement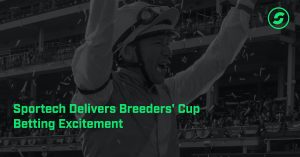 Sportech's pari-mutuel business delivered yet another successful Breeders' Cup weekend for racing enthusiasts who experienced the excitement of the Breeders' Cup at Sportech's Connecticut Winners venues and at MyWinners.com.
Winners OTB locations, telephone wagering and MyWinners.com, the online destination for pari-mutuel wagering in Connecticut, combined to process $1,795,000 in handle over the Friday and Saturday racing days.
In Connecticut, Sportech Venues – home of legal retail and online betting in the State – provided consumers with betting at its ten retail locations and at MyWinners.com, with online channels generating a large share of overall betting.
For more information on Sportech Venues and Winners, visit MyWinners.com.