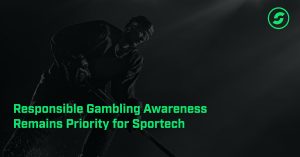 As a member of the Connecticut Council on Problem Gambling (CCPG), Sportech works closely with the organization to ensure retail and online customers have access to the help they may need should gambling become a problem, as well as creating awareness for responsible gambling.
In October, Sportech Venues proudly sponsored CCPG's Annual Conference.  Sportech staff members from operations, security and marketing attended the conference to get a deeper understanding of new emerging trends affecting the problem gambling community.
Mike Burris, Sportech's Manager of Sports Betting, said: "Having attended CCPG's annual conference over the years has helped me understand the importance of ensuring our customers have the opportunity and access to responsible gambling tactics.  The conference always delivers engaging speakers that provide insight on emerging trends in prevention and treatment of problem gambling."
In addition to support for CCPG, Sportech also contributes a portion of daily trading to the State of Connecticut's Problem Gambling fund via the Department of Mental Health and Addiction Services.
For more information on Sportech Venues and Winners, visit MyWinners.com. 
For more information on the Connecticut Council on Problem Gambling, visit CCPG.org.