Calgary Flames Foundation Selects Bump 50:50 as New Digital Raffle Solution Provider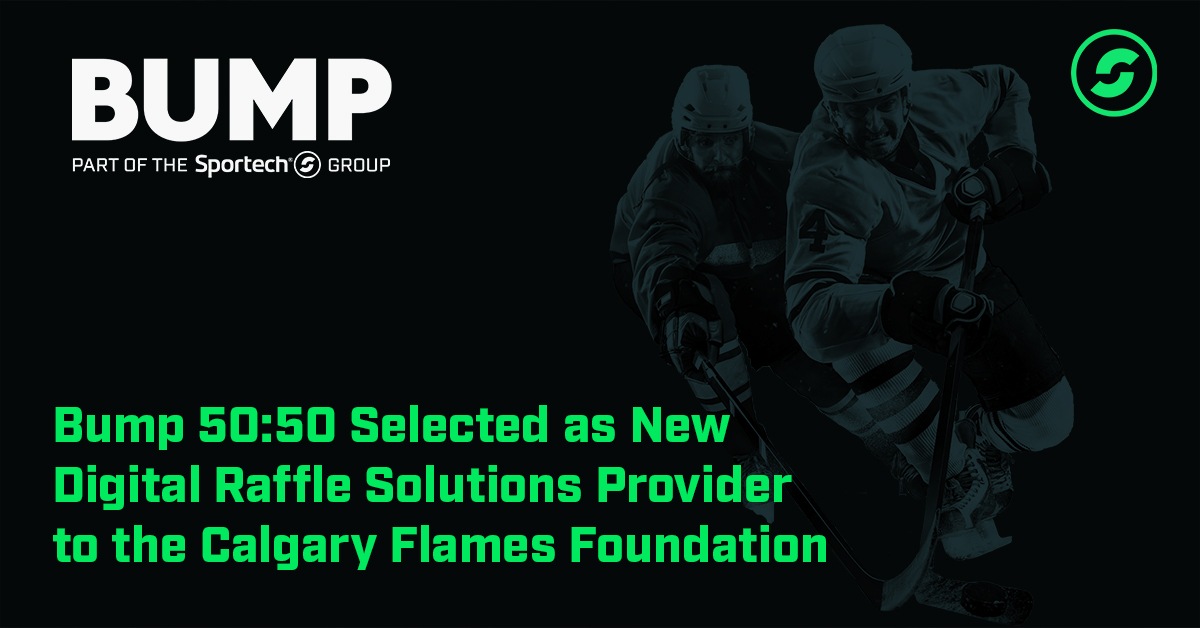 Sportech's Bump 50:50 ("Bump") is delighted to announce the successful launch of an online fundraising raffle platform for the Calgary Flames Foundation to support fundraising raffles associated with Calgary Flames National Hockey League team games.
The successful launch followed the execution of an agreement to provide a digital fundraising raffle solution to the Calgary Flames Foundation ("Flames Foundation") of Alberta, Canada. With this agreement, Bump is the new digital raffle solution provider to four new teams: the Calgary Flames National Hockey League team, the Calgary Roughnecks National Lacrosse League team, the Calgary Hitmen Western Hockey League team, and the Calgary Stampeders Canadian Football League team.
Bump's integrated solution has been deployed to conduct online raffles initially and will be expanded to include in-person sales during future games. The solution includes the proprietary Bump raffle technology platform with contactless payment integration, along with Bump's signature implementation package consisting of marketing, selling and operational strategies proven to maximize a foundation's fundraising potential.
Dave Kurland, President of Bump 50:50, said: "We at Bump are very proud to have been selected by the Calgary Flames Foundation as their new digital raffle solution provider. We know that charities have a choice in digital raffle vendors, so we view the selection of Bump as a strong vote of confidence in our solution and in our approach to working with our client foundations as true partners in their success."
Candice Goudie of Calgary Flames Foundation, remarked, "The Calgary Flames Foundation 50/50 program is integral to Foundation operations and also to the many southern Alberta charities that we support and Bump's online capability has been especially important during the pandemic. The launch of the Bump online raffle was a seamless transition and has offered our participants a new and positive experience. We look forward to offering the full Bump raffle experience at games, in addition to our online raffles, in order to sustain our and grow our fundraising efforts."
The Calgary Flames Foundation are the first Bump clients in Alberta since the Company's December 2020 announcement that they had secured a Gaming Supplier Registration in the province.
About Sportech's Bump 50:50
Sportech's Bump 50:50 provides technologies and services that allow foundations, many affiliated with professional and collegiate sports teams, and non-profit philanthropic organizations to offer innovative digital raffle programs in stadiums and online. Charitable raffles harness the passion of sports and entertainment to help foundations raise funds to support their philanthropic missions. The raffle winners and the foundations share the net raffle proceeds equally, making both partners in the success of the program. On February 1, 2021, Sportech PLC announced that it has entered into a conditional agreement to sell the Bump business to Canadian Bank Note Company, Limited. The sale is expected to conclude in the second quarter of 2021. For more information about Bump, visit www.sportech.net.