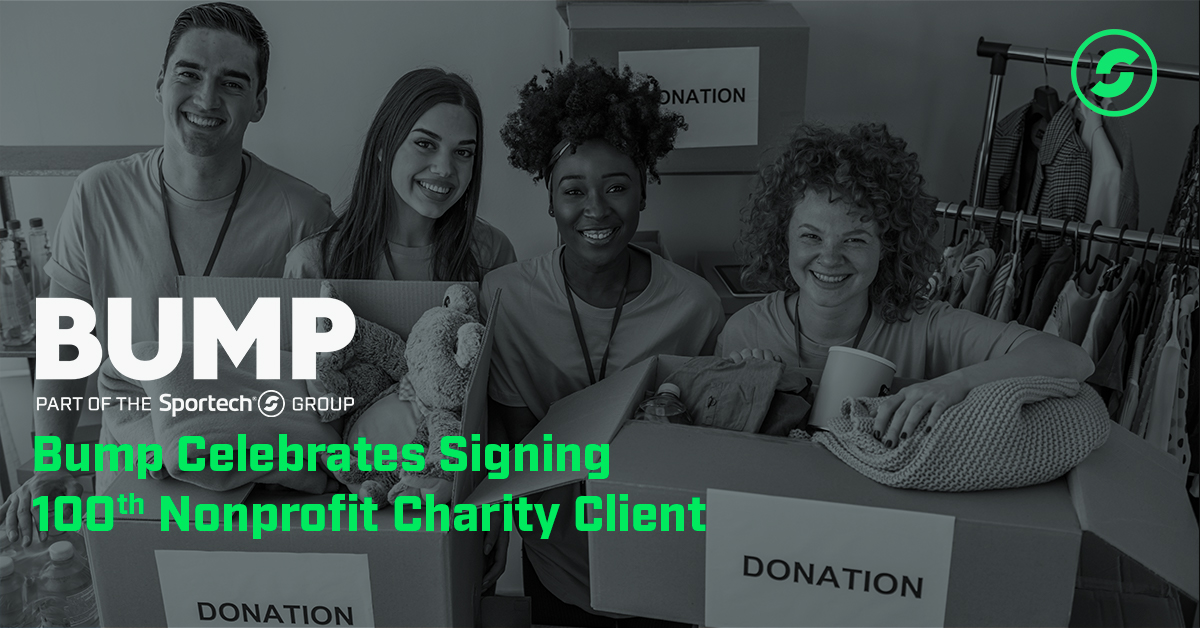 Provider of digital fundraising raffles celebrates rapid growth with non-profit charitable organizations not affiliated with sports team foundations.
Bump 50:50, a division of Sportech PLC and provider of digital fundraising raffle solutions, is thrilled to announce that it has reached an important milestone with the signing of its one hundredth new client partner in the non-sports related non-profit sector.
50/50 raffles have long been a popular form of fundraising but Bump 50:50 has elevated the raffle experience, developing digital platforms and proven strategies to maximize fundraising. The Bump solution has helped the foundations associated with some of the biggest names in professional and collegiate sports generate tens of millions of dollars annually.
Expanding beyond their traditional on-site arena and stadium 50/50 raffles, BUMP 50:50 has very effectively added internet and mobile fundraising options, including weekly progressive raffles such as the popular Catch the Ace and Queen of Hearts, in the last year. This very timely expansion has elevated many non-profit partners that were very affected by the onset and aftermath of the COVID-19 pandemic and the cancellation of vital in-person fundraising events.
These online raffles are perfect for non-profit organizations who do not hold large gatherings like games and festivals but who wish to use digital raffles to drive donor engagement and raise needed funds to support their charitable missions. Additionally, these digital raffle options will augment upcoming in-person events as conditions continue to improve in coming months.
Having reached this important milestone of one hundred new non-profit charity clients in just over one year, Bump is helping non-profits of all types and sizes who are serving the public in human services, healthcare, youth programs, the arts and civic organizations crush their fundraising goals.
Dave Kurland, President of Bump 50:50, said: "I am immensely proud of the Bump 50:50 team as we reach this key milestone. We developed our web, mobile and in-person raffle solutions with the goal of helping our partners find engaging and innovative ways to reach new audiences and give their fans, followers and donors simple ways to help do good for others. We are thrilled to welcome all of our new non-profit partners to the Bump family and are committed to working hard every day to help them continue their good works."
Bump's fundraising raffle solution offers non-profit charities flexible options for fundraising including 50/50 "split the pot" raffles, a "progressive jackpot" raffle (known alternatively as a Queen of Hearts or Catch the Ace raffle) that can grow over time to create excitement and engagement from donors, and prize raffles that allow organizations to offer goods rather than a share of the fundraising jackpot.
Contributors get more from their donation, with fun and exciting ways to participate; always with the knowledge that their favourite non-profit charity will receive 50 percent of the donation to fund their work and that one lucky donor will receive the payback of a lifetime with potential million dollar jackpots.
About Sportech's Bump 50:50
Bump provides technologies and services that allow foundations, many affiliated with professional and collegiate sports teams, and non-profit philanthropic organizations to offer innovative digital raffle programs in stadiums and online. Charitable raffles harness the passion of sports and entertainment to help foundations raise funds to support their philanthropic missions. The raffle winners and the foundations share the net raffle proceeds equally, making both partners in the success of the program. On February 1, 2021, Sportech PLC announced that it has entered into a conditional agreement to sell the Bump business to Canadian Bank Note Company, Limited. The sale is expected to conclude in the second quarter of 2021. For more information about Bump, visit www.sportech.net.